If You Were a Kid in the Wild West (If You Were a Kid) (Hardcover)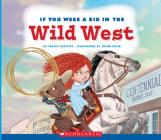 $26.00
Email or call for price.
Description
---
Find out how people lived, worked, and traveled in the Wild West, and much more.During the 1800s, many settlers moved westward across North America to seek their fortunes as farmers, ranchers, and miners. In the Wild West, there were few towns and few people paid much attention to laws. Readers (Ages 7-9) will take a trip through this thrilling period of American history as they join Louise and Nat for a tale of cowboys in a frontier town.
About the Author
---
Jason Raish is an illustrator living in Brooklyn, New York. He has also lived in Seoul, Beijing, Tokyo, Barcelona, London, and Paris, because new experiences make him a better artist.
Tracey Baptiste is the author of the critically acclaimed Jumbies series—creepy middle grade fairy tales set in the Caribbean—as well as 12 other fiction and nonfiction books for kids. She is a former classroom teacher, and still loves visiting schools.