Conversations with RBG: Ruth Bader Ginsburg on Life, Love, Liberty, and Law (CD-Audio)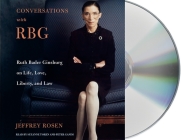 $34.99
Email or call for price.
Description
---
"The audiobook version includes recorded conversations between the two from the 1990s to the present, delivering a compelling informal profile. As a permanent record of Ginsburg's voice and fighting spirit, it's an inspiring listen." — Paste

This program includes recorded conversations between Jeffrey Rosen and Ruth Bader Ginsburg.

In this audiobook, Ruth Bader Ginsburg offers an intimate look at her life and career, through an extraordinary series of conversations with the head of the National Constitution Center.

Conversations with RBG is a remarkable and unique audiobook, an informal portrait of Justice Ruth Bader Ginsburg, drawing on a series of her conversations with Jeffrey Rosen, starting in the 1990s and continuing through the Trump era. Rosen, a veteran legal journalist, scholar, and president of the National Constitution Center, shares with us the justice's observations on a variety of topics, and her intellect, compassion, sense of humor, and humanity shine through. The affection they have for each other as friends is apparent in their banter and in their shared love for the Constitution and for opera.

With Justice Ginsburg's approval, Rosen has collected her wisdom from their many conversations in which she discusses the future of the Supreme Court and Roe v. Wade, her favorite dissents, the cases she would most like to see overruled, the #MeToo movement, how to be a good listener, how to lead a productive and compassionate life. These frank exchanges illuminate the steely determination, self-mastery, and wit that have inspired women and men of all ages to embrace the "Notorious RBG."

Whatever the topic, Justice Ginsburg always has something interesting—and often surprising—to say. And while few of us will ever have the opportunity to chat with her face-to-face, Jeffrey Rosen brings us by her side as never before. Conversations with RBG is a deeply felt portrait of an American hero.
About the Author
---
Jeffrey Rosen is the author of nonfiction books, including the recent Louis D. Brandeis and William Howard Taft. He is the president and chief executive officer of the National Constitution Center, a law professor at George Washington University, and a contributing editor for The Atlantic. He was previously the legal affairs editor of The New Republic and a staff writer for The New Yorker.

Suzanne Toren has over 30 years of experience in recording.  She won the American Foundation for the Blind's Scourby Award for Narrator of the Year in 1988, and AudioFile magazine named her the 2009 Best Voice in Nonfiction & Culture.  She is also the recipient of multiple Earphones Awards. Her many credits include works by Jane Smiley, Margaret Weis, Jerry Spinelli, Barbara Kingsolver, and Cynthia Rylant. AudioFile also raves, "Toren brings a distinguishing warmth and power to her narrations. Her talents extend to both fiction and nonfiction, and in her recording career of 30-plus years she has given listeners heart-wrenching memoirs, lively history, engaging light fiction, and involving mysteries." Toren also performs on and off-Broadway and in regional theatres.