The Story of the Dragonfly (Paperback)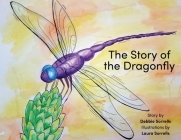 $16.99

Usually Ships in 1-5 Days
Description
---
This is the story of an amazing little girl who grew up into an incredible woman who dedicated her life to helping others. After a tragedy, a dragonfly appeared to remind others of her presence, and to support and encourage them.
About the Author & Illustrator
Families don't get much more salt of the earth than the Sorrells. Married in 1981, Debbie and her husband Garry have been fixtures of the Baltimore County community for their entire lives. Garry was a general contractor as well as an Eagle Scout with the Boy Scouts of America, while Debbie earned her degree as a registered nurse specializing in special needs children.
Soon, Kristin came along, followed by Laura and Amy, two years apart. All very different yet all amazingly caring and inquisitive ladies, they each carved their own paths in life. All three ladies received degrees and graduated from Towson University. Kristin, in Speech Pathology; Laura, in Art Education; Amy, in Exercise Science.
Amy soon pursued her dream of becoming a police officer, and in 2014, she achieved that dream. Only four short years later, Amy was tragically killed while responding to a burglary call on May 21, 2018. The suspect intentionally struck her in an attempt to flee the scene. During her career with Baltimore County, she worked out of Precincts 11 (Essex) and 8 (Parkville). Ofc. Caprio was awarded Officer of the Month twice, having been nominated three times. She was the first female officer killed in the line of duty in the history of the department, and was awarded the Medal Of Honor posthumously for her heroism and sacrifice. She left behind her family as well as her husband, Tim.
As time moved on, Debbie was compelled to write this book. Amy and her family love dragonflies. Once the words were roughed out, Laura took over and illustrated the book. This is a labor of love. This book is written in, and dedicated to, Amy's memory.