An Evening with Carl LaVo and Dashiell Cosdon
Submitted by kmorrison37 on Sun, 10/15/2023 - 7:33pm
Please join the Newtown Bookshop as we welcome Carl LaVO with his grandson, Dashiell to the Newtown Bookshop on Thursday, November 16th at 6:30pm! Carl and Dashiell are celebrating the release of "Bucks County Adventures for Kids: Volume III"!
This is a FREE EVENT and will be held at the new location of the Newtown Bookshop!
CLICK HERE TO RESERVE YOUR FREE SEAT
ABOUT THE BOOK
Authors Dashiell Cosdon and his grandfather Carl LaVO take kids, parents and grandparents on 25 unforgettable adventures the entire family can enjoy in historic and beautiful Bucks County, Pennsylvania. The two authors have chosen top attractions for day trips after many years exploring every corner of the county since Dashiell and sister Margaux were toddlers. Bucks is a rarity as a cradle of democracy. We visit where George Washington and the Continental Army made their famous crossing of the Delaware River in 1776. We explore two castles - one where a horse-drawn carriage and whaling boat hang from the ceiling, and another with 44 rooms, 32 stairwells and a rooftop "Room of Winds." We'll experience musical tones of Ringing Rocks, sit inside the cockpit of a jet, walk old Indian trails, hold butterflies, explore a river cavern, stand on a lookout over a grand canyon, pass through 14 covered "kissing" bridges, and enjoy the state's one-of-a-kind wildflower sanctuary. This third volume in the family's Bucks County Adventures series offers maps, directions, sources for more information and dazzling photography to embroider your own memorable adventures.
ABOUT CARL LAVO
Carl LaVO, a graduate of the University of Florida in Gainesville, is a weekly local history columnist for the Bucks County Courier Times and The Intelligencer newspapers plus USA Today Network. He's the author of the pictorial Bucks County Adventures series. A native of California, he's lived in Bucks for more than 40 years. He and wife Mary Anne have written numerous stories about Bucks County for regional and national magazines. Together with daughter Genevieve and her family, they've shared many adventures getting to know the unique places and rich history of the county that dates to the Lenape Indians and William Penn.
Carl is retired former editor of the Bucks County Courier Times. He's the author of four previous books on submarine history published by the Naval Institute Press in Annapolis: Back from the Deep, Slade Cutter, The Galloping Ghost and Pushing the Limits. He's also written many articles for the Naval Institute's two magazines, Proceedings and Naval History. His television appearances include The History Channel's Silent Service and Man, Moment and Machine. An award-winning journalist and photographer, Carl has written for Philadelphia magazine, National Wildlife, Down East and many other periodicals.
Carl is an experienced scuba diver and early in his career led pioneering explorations of many water-filled caverns and subterranean rivers of Florida, exceeding depths of 200 feet.
ABOUT DASHIELL COSDON
Dashiell Cosdon has accompanied his grandfather on adventures just about everywhere in Bucks County since he was a toddler. Today, he's a budding journalist with unlimited ambition. Besides his interest in outdoor adventures at age 13, he's a consummate hardball baseball player and trombonist for his school jazz band.
Dashiell also enjoys math, history, art, and computer technology. Dash wrote the forward to Bucks County Adventures for Kids and participated in all 25 adventures throughout Bucks County that he and his grandfather believe will appeal to kids and adults.
Event date:
Thursday, November 16, 2023 - 6:30pm
Event address:
Newtown Bookshop
2120 S. Eagle Road
Newtown, PA 18940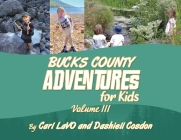 $24.95

ISBN: 9781977266026
Availability: Usually Ships in 1-5 Days
Published: Outskirts Press - July 16th, 2023
Bucks County Adventures for Kids - Volume III
---